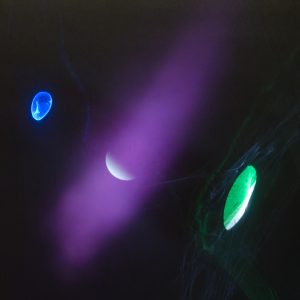 I.I.L.I. is an Immersive Interactive Light Installation,  taking place at 16/18 O'Connell Street, Waterford, during Imagine Arts Festival 2017.
http://www.imagineartsfestival.com/
Created by a small group of members from South East Makerspace, a kinect camera with motion tracking software picks up the location and movement of people in a gameplay space within the exhibition space. The physical movements of those present cause subtle shifts or directional changes to beams of light. As the light changes, it catches fragments of reflective and translucent materials fixed within the installation area. The result is ephemeral visual compositions of light that affect and alter the mood and experience of the surrounding space.
I.I.L.I. is a gameplay experience: a mash-up of physics, art and technology that encourages users' to create their own light painting by combining body movement with the laws of reflection and refraction of light.