Waterford's urban spaces re-imagined
About
Developed by a team here at the South East Makerspace, Digistreets aims to re-imagine urban spaces as playful though interactive art installations. During Imagine Arts Festival, 20th -30th October in Waterford, we will inhabit the city with pop-up interventions 'Magical Mushrooms' and 'Talking Rubbish'. 
'Magical Mushrooms' will crop up in green spaces in the city. Some mushrooms have interactive elements, giving them the ability to illuminate at night time but only in the presence of living moving beings. 'Talking Rubbish', although not visibly apparent, may be encountered during the day in pedestrian areas of the city. The interventions are temporary in nature and will have no fixed schedule.
Digistreets, a first collaborative effort by a small group of members at SEMS, has grown from playful experimentation, combining creativity and technology in a multi-disciplinary environment. Embracing our DIY maker culture, the work utilises both new and old technologies: analog and digital circuits, defunct and new materials.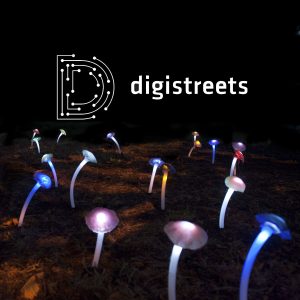 Where and When?
Talking Rubbish – Day time. No Fixed schedule. Random city centre locations over Imagine Festival.
Magical Mushrooms – After dark temporary pop-up installation. Locations will vary nightly. Some locations will be disclosed. Others will remain a surprise.
Friday 21st – Interactive mushrooms will appear after dark in Railway Square.
Saturday 22nd – Glowing mushrooms will emerge after dark inside the main entrance of the People's Park.
Sunday 23rd – No mushrooms tonight folks.
Monday 24th –  Surprise location.
Tuesday 25th – Interactive Mushrooms, just after dark, in Railway Square.
Wednesday 26th – Surprise location
Thursday 27th  – No mushrooms tonight folks
Friday 28th – Surprise location
Saturday 29th – Ballybricken Green
Please note the above is subject to change and dependent on weather conditions.
Latest
Find out the latest information about Digistreets here
Our Sponsors
Waterford City & County Council
Arc Management Systems
Enerpower
Waterford Credit Union
St. Dominic Credit Union
GJM Contracts
Murphy Plumbing & Maintenance
Photozone
Momentum Design