Address
FOR POST: PLEASE DO NOT USE THE OLD ADDRESS AT THOMAS HILL
FOR VISITS: VISITS ARE SUSPENDED UNTIL RELOCATION IS COMPLETE
SEMS has vacated the old Space at Thomas Hill. We are in the process of moving to a new site soon.
The South East Makerspace is located right in the heart of Waterford City.
Address:
South East Makerspace
Old Printworks
Thomas Hill
Waterford City
Ireland
Eircode: X91 TW63
Street Map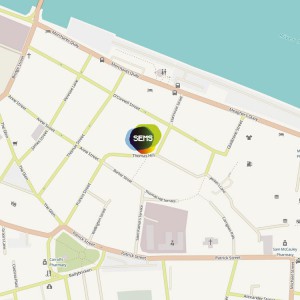 Transport
National Coach
A short walk from the Bus Éireann bus station on Waterford Quay's.
Main routes:
BE Route 4 – Dublin (Airport) – Dublin – Carlow – Thomastown – Waterford – New Ross
BE Route 40 – Cork – Youghal – Dungarvan – Waterford – New Ross – Wexford
BE Route 55 – Limerick – Clonmel – Carrick-on-Suir – Waterford
Dublin Coach operates an 'M9 Express' from Merchants Quay, near the Granary. From Spring 2016, the same company operates to Cork (St. Patrick's Quay) and Dungarvan via the N25.
Main route:
Dublin Coach M9 Express – Dublin City Centre (Burgh Quay OR Bachelors Walk) – Dublin (Red Cow) – Kilkenny (Ormonde Road & MacDonagh Junction) – Waterford (Merchants Quay) – Dungarvan – Cork City (St. Patrick's Quay).
Alternative Dublin services are provided by J.J. Kavanagh And Sons. Their services operate via the Quays with the Dooley's Hotel stop being the nearest. Services continue to/from Parnell Street (7-10 minute walk) and further afield to Tramore.
Main route:
JJKavanagh Route 736  – Dublin Airport – Dublin (Eden OR George Quays) – Dublin (Red Cow) – Carlow Town – Paulstown (M9 Junction 7 / Applegreen) –  Waterford (Dooley's) – Waterford (Parnell St) – Waterford (Riverwalk) – Waterford (W.I.T.)  – Tramore
Regional Coach and Local Buses
Route 73 – Athlone – Portlaoise – Kilkenny – Waterford (infrequent, twice daily)
Route 360 – Tramore – Waterford (frequent)
Suirway: services to/from Portlaw, Dunmore East and Passage East
Local city buses operate via the Quays
Private transport and car parking
The N25 Rosslare – Cork road now bypasses the City; also Waterford is the terminus of the M9 and national route N24
Indicative driving times:
Kilkenny City (via M9) – 40 minutes
Dungarvan (via N25) – 45 minutes
Clonmel (via N24) – 45 minutes
Wexford  (via N25) – 1 hour
Outer Dublin (Red Cow via M9) – 1 hour 45 minutes
Cork City Centre  (via N25) – 1 hour 50 minutes
Waterford Council operate several municipal car parks – of which Jenkin's Lane is the nearest.
Various private car parks are located on The Quay and further up Thomas Hill, for rates less than €5/day
On-street parking is €1.80/hour – free after 18.30 + Sundays (check signage). Availability is variable.
Trains
Waterford's railway station is located on the opposite riverbank and is a short walk across the bridge to Thomas Hill (8-10 minutes).
All services are operated by Iarnród Éireann
Although Waterford was once a substantial rail hub, it is now the terminus of the line south from Dublin Heuston. Intermediate stations include Kildare Town, Athy, Carlow and Kilkenny. Infrequent services operate to and from South Tipperary on the old Rosslare to Limerick line. There is no direct service to Cork.